Lokmat Media group enters MP with the Hindi daily Lokmat Samachar's Chhindwara edition

Lokmat Times launches its 3rd edition in Nashik

Business Icons of Aurangabad

Lokmat continues to be the most read newspaper in Maharashtra, ahead of the second most read daily by 64%
(Source : IRS 2012 Q4)

Business Icons of Pune

Lokmat Media ties up with Yahoo! India to launch a co-branded Marathi content destination

Lokmat adds 39,000 more readers in Nashik
(Source : IRS 2012 Q4)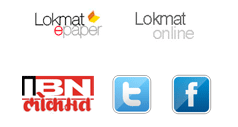 © Copyrights 2007-2010 Lokmat Media Pvt. Ltd.