Lokmat Connect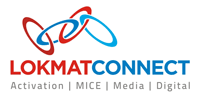 'Lokmat Connect' is the Experiential Marketing division of the Lokmat Group. We are the solution enterprise that creates marketing and activation solutions for brands, products and services. This division is proficient in Activation, MICE (Meetings, Incentives, Conferences and Exhibitions) and Mega Events (awards and sports). Lokmat Connect is involved in providing fully functional and professional in-house client servicing, operations and creative teams at 12 centers including Goa.

'Lokmat Connect' includes our 4 forums: Yuva Nxt, Bal Vikas Manch, Sakhi Manch and  Campus Club which are engaged for any brand specific activity wherein maximum benefit can be provided to these social initiatives and purpose of the brand can also be fulfilled -

Activation
This division covers all brand associated ATL, BTL activities. Solutions towards Rural and urban Promotions, consumer connect initiatives, Brand/Product Launches, Brand awareness campaigns etc. are conceptualized and executed through the activations team.

Meetings, Incentives, Conferences and Exhibitions
Under the umbrella of Lokmat Connect, this division has a team of experts in the field of trade and consumer fairs. Shows such as Lokmat Good Homes, Lokmat Property and Lokmat Rajya Krishi pradarshan have registered good response amongst the audience and the respective industry related companies.
Mega Events
The team at Lokmat Connect has been constantly working on creating properties in entertainment, sports and other mega social events. The group bouquet consists of annual properties like 'Lokmat Maharashtrian of the Year', 'Lokmat Women Summit' and sporting events like APL, NPL, KPL, etc.