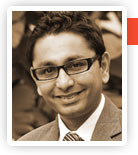 Rishi Darda
Editorial & Jt. Managing Director

Mr. Rishi Darda is involved in the day-to-day operations of the company along with the business expansion strategies of the print media division of the group. He also supervises the performance of the company in terms of the business plans. He has been on the Board of the Company since November 2001. He was a President of the Lions Club and Rotaract Club and is a member of the Entrepreneurs' Organisation. He was part of the then Indian Prime Minister, Atal Bihari Vajpayee's delegation to Japan for the 'Indo-Japan Economic Ties' in 2001.

Mr. Darda holds a bachelor's degree in commerce from H. R. College of Commerce and Economics, Mumbai, a post graduate degree in journalism from Aurangabad University and a master's degree in Business Administration in General Management from Weatherhead School of Management, Case Western Reserve University, Cleveland, USA.
«
Back