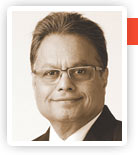 Vijay Darda
Chairman

Mr. Vijay Darda has been the chief visionary and driving force behind Lokmat's growth over the last three decades. He is a recipient of several prestigious awards including the Feroze Gandhi Memorial Award for excellence in journalism in 1990-91, the Giant International Journalism Award in 1997, Ten Outstanding Businessmen, Industrialist and Professional Award in 2001, Late Vidyadhar Gokhale Memorial Award in 2003 and Shri. Brajlallji Biyani Journalism Award by Lions Club of Indore in 2006. He has also been part of national delegations accompanying the Prime Minister of India to Security Council Meeting at the UN Headquarters, New York in 1992, World Economic Forum at Davos in 1992, Non-Aligned Movement Summit at Jakarta in 1992, visit to China and Korea and the G-15 Summit at Harare, Zimbabwe in 1996.

Mr. Darda was the Chairman of Audit Bureau of Circulation (India) for the year 2010-11. He is a former President of the Indian Newspaper Society, Founder President of South Asian Editors Forum formed by the editors of dailies in South Asia, an ex-member of the Press Council of India and Managing Trustee of the Press Institute of Maharashtra. Currently, he is a member of the World Association of Newspaper, Paris, the Commonwealth Press Union, London, the International Advertising Association Inc., New York, the Indian Language Newspaper Association, the National Readership Studies Council and the Advertising Club of India.

In addition to being a journalist and an entrepreneur, Mr. Darda is also active in the political arena. He is a Member of Parliament, Rajya Sabha (upper house) since 1998, having been elected for three consecutive terms. Additionally, he is a member of numerous standing and consultative committees of the parliament such as Finance, Information and Technology, Petroleum and Natural Gas and the Railways.

Mr. Darda holds a bachelor's degree in arts and a diploma in journalism and printing technology from Bhavan's College, Mumbai.
«
Back